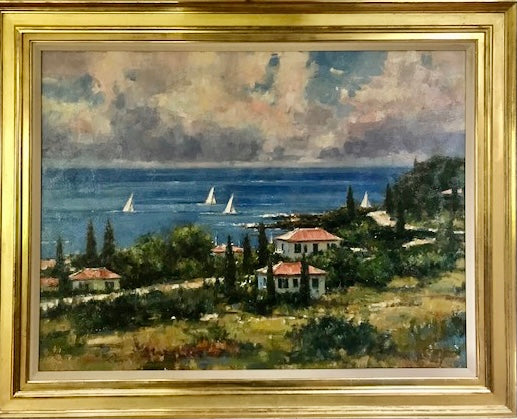 Côte d'Azur - Peter Rolfe
JTG #:
Regular price $8,500.00 Sale
38" x 48" Gold Leaf Framed 
Oil on Linen
By Peter Rolfe


Rolfe's paintings of Maine, Boston, the southern cities of St. Augustine, Savannah and New Orleans, California, the Caribbean Islands, Mexico, France and especially Italy (his favorite place to paint) hang in living rooms and boardrooms in almost every state in the Union. Boston's most revered teacher and Master painter, Robert Douglas Hunter, said of Rolfe, "Peter is a mature and consistent painter – a real pro. His subject matter is always original and fresh, and his compositions create 'unity of effect' – a quality that, historically, very few painters have been able to accomplish. His work has true artistic merit."
Rolfe's paintings have been sold to hundreds of collectors from five continents. Three of his more publicized works include "Winter Night" which was exhibited by the National Academy of Design, "Dusk on the Charles" which was acquired by Genzyme Corporation and hangs in their front lobby and "Patriot's Day – Heading Toward Kenmore", the well-known depiction of the Boston Marathon, which was commissioned by the Boston Athletic Association.