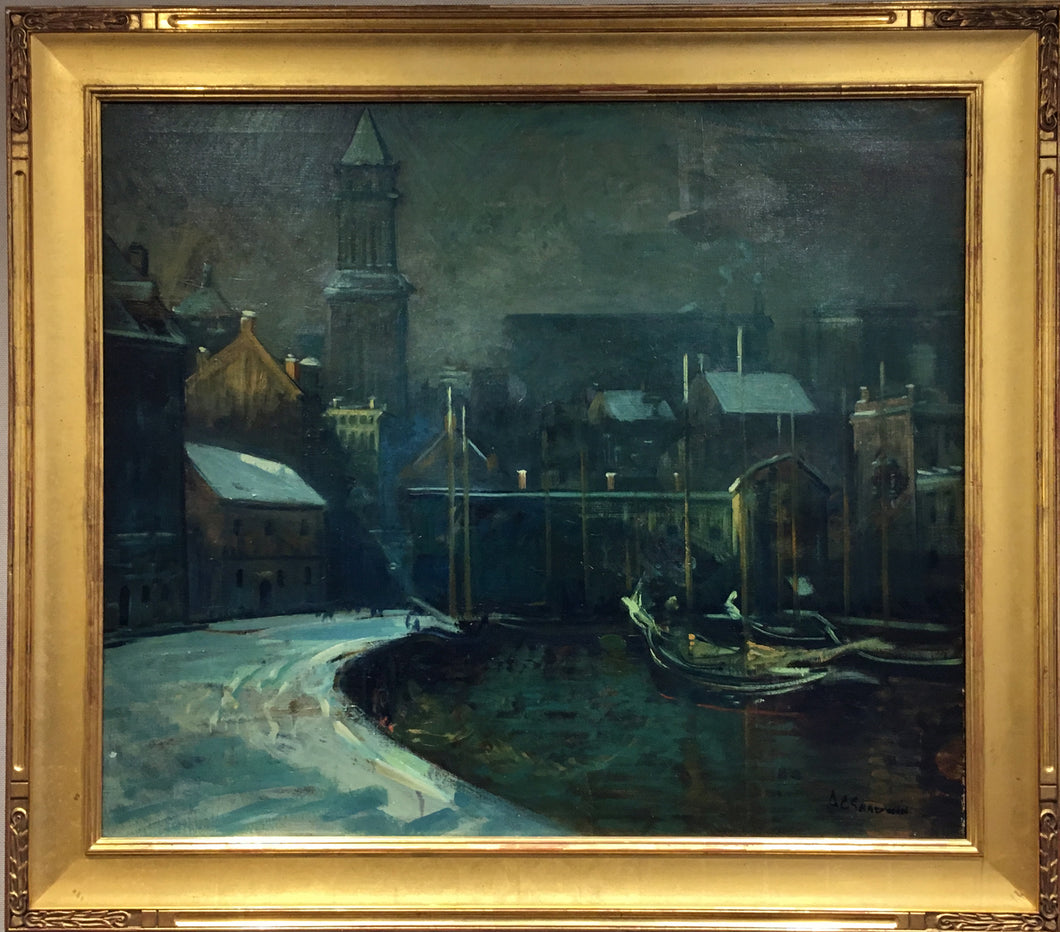 "Custom House Tower and Wharf, Winter" by A.C. Goodwin - Antique Impressionist Oil Painting of Boston
JTG #: 50596
Regular price Call For Pricing Sale
38" x 44" Unframed 
48" x 54" Framed 
Oil on Canvas 
Oversized 
By Arthur Clifton Goodwin (1864 - 1928) 
A.C. Goodwin is known primarily for his spontaneously executed impressionistic views of docks, harbors, landscapes and cityscapes in and around Boston, Gloucester and New York City. He spent most of his professional life in Boston (before 1920 and from 1928-1929, and again from 1925-until his death) and New York City (1920-1927). He painted in oil and/or pastel.
Known as a "Boston painter," he was a member of no "school" and basically was self-taught. He was a member of the Guild of Boston Artists and the Boston Society of Water Color Painters. He exhibited at the Guild of Boston Artists; the PAFA; Doll & Richards Gallery, Boston; Boston Art Club; Corcoran Gallery, Washington, DC; Milch Galleries, NYC and elsewhere.
His work is represented at the Museum of Fine Arts, Boston; Union Club, Boston; St. Botolph Club, Boston; Colby College, ME; New Britain Museum of Art, CT; Lowe Art Museum, FL; Georgia Museum of Art; Smith College Museum of Art, MA; Farnsworth Museum, ME; Parrish Art Museum, NY; Toledo Museum of Art, OH; Cheekwood Museum, TN and elsewhere. He painted en plein air and is best known for the Boston waterfront, street and park scenes.