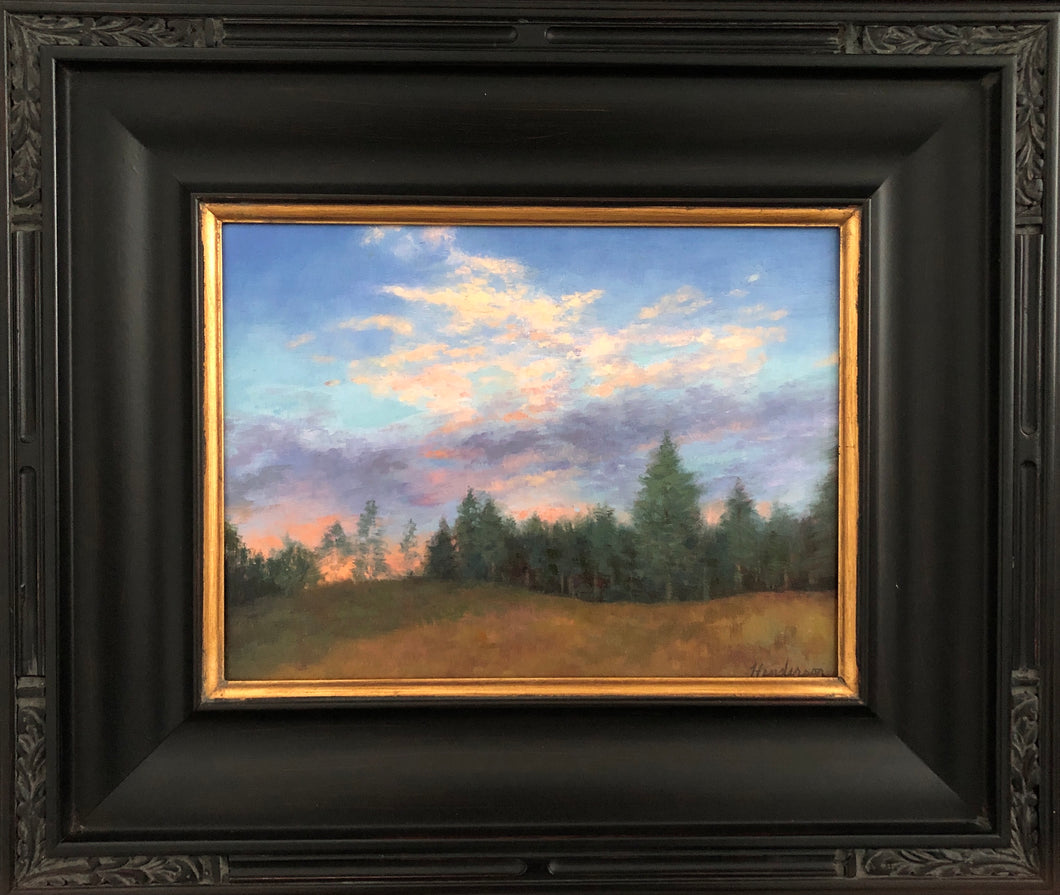 Gentle Evening - KristinaHenderson
JTG #:
Regular price $950.00 Sale
9" X12" Unframed
17" X20 Framed
Oil on canvas
Kristina grew up in Roslyn Harbor, New York. As a child she exhibited an early interest in the arts, studying ballet, classical guitar, painting and pottery. She graduated early from high school, enrolling in the Fine Art degree program at Adelphi University when it was apparent that her dream of being a ballet dancer was not realistic. Disillusioned at Adelphi after a year, she was advised that textile design was a viable artistic career.
She transferred to the Fashion Institute of Technology (FIT) in New York City to study textile design. The textile design degree required a class in abstract painting during the final spring semester. She missed the class on painting realism during the fall semester when she studied abroad in Winchester, England. She was one of two people chosen to participate in the initial year of this program. Upon her return to the states, during her last semester at FIT, she took the required abstract painting course. The professor recognized her abilities and strongly recommended she seek out painting classes in realism, his oeuvre. This support piqued Kristina's interest in exploring realism painting. "Sometimes it takes just one person to change the course of a life," she notes. She and her supportive mother sought out classes.
Harold Ransom Stevenson, who studied at the Art Students League and with Norman Rockwell, along with his wife Alma Gallanos, ran a private school of traditional realism painting in Sea Cliff, Long Island in the 1970's. While working in New York in
the textile field, Kristina attended their classes 3 hours per night, 5 nights a week. After leaving her job in New York and while attending the classes, she worked with Harold on a private atelier program he developed for serious students. This program took a year to complete. Although she enjoyed painting abstracts in her teens, the challenge of painting realism and eventually landscape art is what captured her enthusiasm over time.
After graduating from The Stevenson Academy, she discovered that painting the nude figure had many limits not only in procuring appropriate studio space but also limited opportunity for sales. In the 1980's, her pastel nude was the only nude accepted into the Catharine Lorillard Wolfe Art Club annual juried exhibition at the National Arts Club in New York. Her friend went to see her painting the final evening of the show, arriving at closing time. He instructed the steward he wanted to see Kristina's painting and the steward replied she knew right where it was. She said that as a rule they did not accept nudes but they made an exception for her pastel! Kristina was pleased and yet stunned. If she couldn't show nudes among other artists in juried shows, how would they be perceived by the public? It would be a very limited market.
Kristina spoke with Stevenson about her desire to transition into landscape painting. He was not a plein-air landscape painter himself but he recommended John F. Carlson's Guide to Landscape Painting. Between her work in the textile industry, the values, drawing and edges learned painting figures with Stevenson, and Carlson's book filling in the gaps regarding aerial perspective, Kristina started painting landscapes and has continued her love of painting outdoors for 30+ years. She often uses her plein-air studies as the basis for
larger studio works. Her technique has remained consistent from her early training painting in oils and pastels. Although she was originally fascinated by the ability to paint a "drop of rain on a leaf" and her paintings remain detailed, her technique has loosened some over the years with her primary focus now on capturing the mood that lighting creates on the landscape. She includes old homes with "character" as part of her definition of the landscape genre. Landscape artists that continue to inspire her include Richard Schmid, Clyde Aspevig, Peter Poskas, and Mark Boedges.