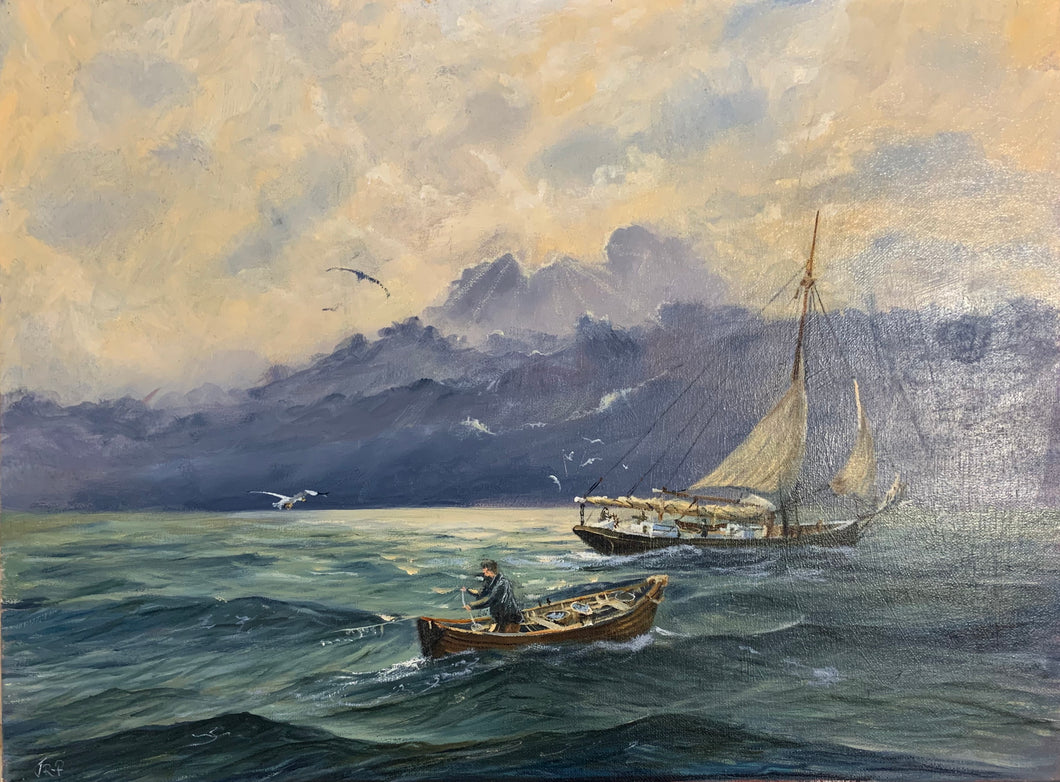 High Waves - Jeremy Rugge Price
JTG #:
Regular price $2,000.00 $1,500.00 Sale
18" X 24" Unframed Oil on Board
Jeremy was born in England in 1940, and spent much of his childhood around the dunes and fishing villages of East Anglia. His interest in art was kindled early on in his life by the paintings of some of the more prominent British and French impressionists that adorned the walls in his family home. 

He learned to sail at an early age at Aldeburgh under the weathered eye of an old fisherman and local character called Jimbo.

Educated at Harrow School (without ever setting so much as a toe inside the art school) he went on to serve three years "before the mast" in the British and Commonwealth Shipping Company, sailing on cargo ships to India and South Africa. During one of these voyages at sea, he experienced first hand, two hurricanes in the Indian Ocean, the likes of which would now be categorized as force five plus.

Coming from a military family he then followed tradition by becoming an officer in the 13th/18th Royal Hussars, one of Great Britain's elite cavalry regiments.

On retiring from the Army he entered the restaurant industry and opened Le Chaumiere in London which soon gained a much coveted Michelin Star.

He moved to the United States in '76 and was involved in marketing and public relations within the hotel and restaurant industry. In 1992 he gave up his day job and began to concentrate on teaching himself to paint. He is now a successful marine artist, but does do the occasional landscape.

Every year he has sailed off the Maine coast on a fifty foot yawl belonging to a great friend, and it is from these voyages he finds the inspiration for many of his favorite subjects. He is currently one of a specially selected core of artists for the Maritime Gallery in Mystic Connecticut where his work is in this year's exhibition of Modern Marine Masters. He is also a (very) junior lay member of the Royal Society of Marine Artists in London. Last year he had a painting in the "Celebration of Art from Harrow School" exhibition at Christies Great Rooms in London. An exhibition at the prestigious New York Yacht Club is presently under discussion for later this year.

His art can be seen on both sides of the Atlantic as well as in the Bahamas. In the U.S. it can be viewed in various galleries from Portland, Maine to Charleston, South Carolina. Jeremy has recently returned to England to be nearer his family, and has now begun exhibiting in the U.K.