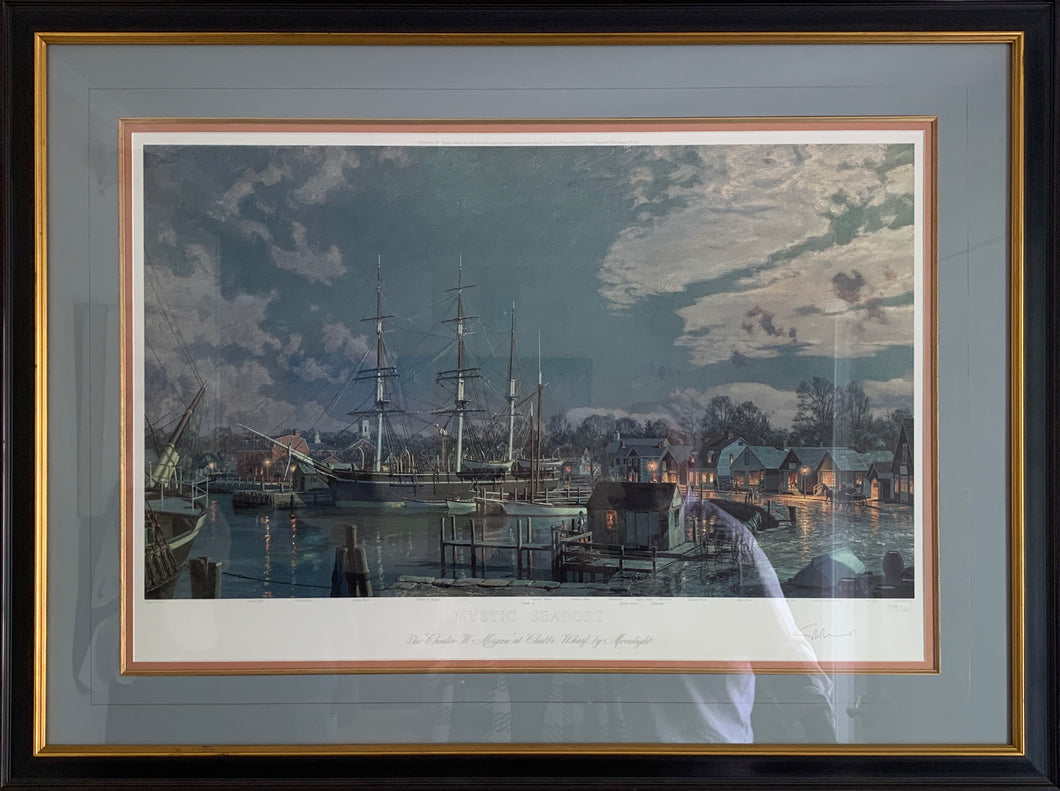 Mystic Seaport - The "Charles W. Morgan" at Chubb's Wharf by Moonlight - Print - John Stobart
JTG #:
Regular price $650.00 Sale
16" X 20" Unframed
22" X 26" Framed
John Stobart was born in Leicester, England on December 29, 1929. His father enrolled him in Derby College of Art in September 1946. Stobart achieved high honors and a county scholarship to London's prestigious Royal Academy Schools, being one of only four students accepted that year. Realizing fairly early in his student days that an essential part of becoming a professional artist would be to achieve sales of his work, he began to exhibit small landscapes painted in the countryside outside London and along the river Thames.
Upon graduation from the R.A. Schools, Stobart embarked on a voyage to South Africa to visit his father. It was during this voyage that John Stobart realized new horizons. If he could borrow plans for new vessels being built, he could best take advantage of all that he had carefully observed in these exotic ports. The original paintings would be suitable for boardroom displays, and the prints could be used on calendars that each shipping company sent out annually. Within two years his paintings of ships in foreign ports were decorating some fifteen shipping company boardrooms in London.
Stobart immigrated to Canada in 1957. For the following ten years, he developed the interest of shipping companies along the St. Lawrence River. Always hoping to paint the era of merchant sail. It was late in 1965, that John Stobart first visited the United States with four paintings of sailing ships. The day he arrived in New York the Wunderlich family who had founded, and then owned, Kennedy Galleries, offered him a one-man show. Over the subsequent fifteen years, the Wunderlichs gave him seven one man shows, all virtual sell-outs.
Seeing his large new originals disappear into private collections throughout the United States, Stobart initiated the idea of publishing limited edition prints of his more important works. Stobart established Maritime Heritage Prints, Inc. in 1976 feeling that the highest quality of production could only be assured if he himself remained in control. While continuing his popular series of paintings of the historic ports of America, Stobart has, since 1987, returned to the practice of painting contemporary outdoor subjects whenever possible. It is within this field of effort that John Stobart believes every landscape painter's ultimate contribution lies.