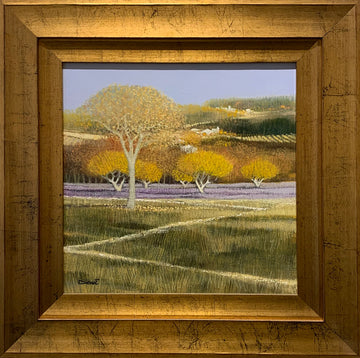 Village Aux Arbres Jeunes by French Artist Dominique Dorie
JTG #:
Regular price $4,000.00 $3,200.00 Sale
French master artist Dominique Dorie's artistic focus is Provence and its nuances. He is at home with fields of lavender and red poppies, to small inlets filled with sea grass and colorful boats. He often paints lighthouses, flowering apple trees, hilltop villages, and even relaxing, serene waterways. Like many French artists he also signs the back of the picture, notes its size in centimeters, and the subject. He won a scholarship offered by the city of Paris, which enabled Dorie to enroll in a night course for drawing. He was awarded the Prix du Salon in the latter exhibit; In 1984 & 1985 he exhibited in the prestigious Salon d'Automne; In 1986 he won the Medaille d'Or at an exhibition in Deauville; He has since become one of the most highly regarded painters of his time and is listed in the prestigious international Benezit Encyclopedia, 2000 Edition.